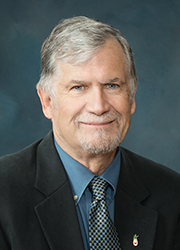 John J. Hogan, CHA CMHS CHE CHO is a career hotelier, author and educator who has held senior leadership with responsibility in several organizations involving operational, academic and entrepreneurial enterprise. He has demonstrated competencies as a strong leader, relationship builder, problem solver and mentor and frequently invited to speak at franchise meetings, management company and hospitality association industry events. He has conducted more than 5,000 classes and workshops in his career as of 2016.
He writes regular columns for a number of global online services, has published more than 400 columns and co-authored (with Howard Feiertag, CHA CMP) LESSONS FROM THE FIELD – a COMMON SENSE APPROACH TO EFFECTIVE HOTEL SALES as well co-authoring the Supervisory Skill Builders from the Educational Institute. Hogan's professional experience includes over 43 years in operations, service, sales & marketing, training, management development and asset management on both a single and multi-property basis.
He holds a number of industry certifications and is a past recipient of the American Hotel & Lodging Association's Pearson Award for Excellence in Lodging Journalism, as well as operational and marketing awards from international brands. He has served as President of both city and state hotel associations.
John's background includes teaching college level courses as an adjunct professor at three different colleges and universities over a 20-year period. He has been affiliated in senior management roles with Sheraton, Hilton, Omni, Park Suites (now Embassy Suites), Best Western International and independent hotels. He was the principal in an independent training & consulting group for more than 12 years serving associations, management groups, convention & visitors' bureaus, academic institutions and as an expert witness.
He is the co-founder and CLO of HospitalityEducators.com and the principal of HoganHospitality.com, which provides litigation support, expert witness services and hotel consulting. He has written almost 500 articles and more than 225 blogs for industry publications and has been recognized with awards of excellence from the American Hotel & Lodging Association and international hotel brands. He is co-authoring a series of eBooks on HOSPITALITY SALES IN THE DIGITAL AGE with Howard Feiertag of Virginia Tech and Kathleen Hogan. In 2016, he partnered with several other CEOs (Kathleen Hogan of HospitalityEducators.com, Jon Albano of Lodging Leaders Podcast and film maker Tim Danyo of ImaginationMedia.tv) to create the Hoteliermastermind.com, a carefully selected "think tank" of leading hospitality professionals to help identify the biggest challenges hoteliers face today, and utilize the collective intelligence of the group to solve them.
He has supported numerous industry boards that deal with education and/or cultural diversity for more than 15 years. He served on the AH&LA Certification Commission of the Educational Institute and as brand liaison to the NAACP and AAHOA with his long term involvement in the Certified Hotel Owner program.